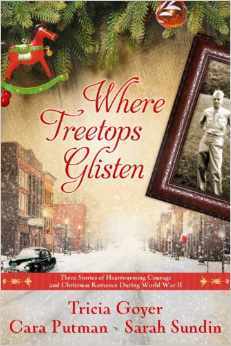 It was happy coincidence that I met one of the authors, Cara Putman, a mere month ago. She came to talk to my library about writing inspirational fiction and it was a fabulous talk. She mentioned there was a new Christmas book in the works and lo and behold I have the opportunity to read and review the very book she mentioned. How exciting?!
I have to start by saying that I LOVED the premise of the book; three World War II era novellas set during three consecutive Christmas seasons and focusing on one particular family. Each story was also cleverly named after a classic Christmas song. Two of the stories were set in Lafayette, Indiana (yay for Hoosiers!) and one was set overseas. There is something about Christmas that is inherently romantic and these three authors did a fantastic job of writing connected, heartfelt stories about different members of the Turner family.
Abigail Turner is a young Purdue student set on never falling in love again after suffering a romantic loss at Pearl Harbor. Soon she finds out it may not be easy to lock her heart away because someone may hold the key.
Pete Turner is a former bad boy, pilot hero come home on furlough. He comes across a young widow and her daughter and realizes that he teased her his whole childhood. Is it too late to change his roguish ways?
Meredith Turner is a nurse in the Netherlands, as she treats wounded men both friend and foe she can't help but think of the one that got away. Can a Christmas miracle bring them together again?
Each story is delightful in it's own right, all three together are sure to warm any heart. For fans if inspirational historical fiction and Christmas short stories.
I received this book for free from Waterbrook Press in return for my honest, unbiased opinion.