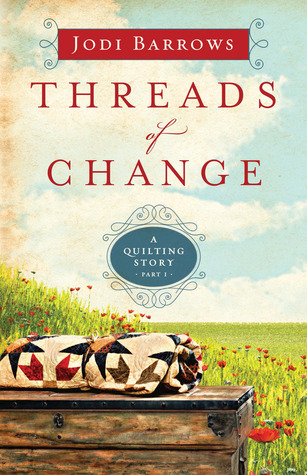 I've read several inspirational historical romance quilting books this year (phew is that a mouthful) and this one followed a pretty similar route. Take a historical romance, add some widows or unmarried women who too much time on their hands, throw in a dash of quilting with a side of unrequited love and VOILA you have this book (along with a whole new genre).
Liz is an independent women, she is a widow with a ten year old son and she isn't afraid to speak her mind. When her grandfather convinces her that she, her sister, her two cousins, her son, and her should move west to Texas, in order to avoid the coming war (Civil War) she hesitantly agrees. While on the trail to Texas she utilizes her quick thinking and inner strength to save the traveling party from near disaster several times. It may seem like she's in control of everything but her heart and her head are at war. Accompanying them is her dead husband's best friend, Thomas. He's clearly smitten with her and she is unsure how to proceed. What's a woman to do? Spoiler alert, quilting solves most problems.
The storyline was decent although the beginning was convoluted and confusing. Once they reached Texas I feel like the author rushed together a hasty ending. The pacing was a little odd but overall I guess the story was ok.
I received this book for free from Moody Publishing in return for my honest, unbiased opinion.